Septic Tank Services in Smithfield
Septic Tank Installation in Smithfield
Roughly a third of all new home buyers in Smithfield are choosing the economical and environmental benefits of using a septic tank system to recycle their home's wastewater. Whether you're building a new home with a septic system or replacing an existing one, trust Full Circle Environmental to provide unparalleled service and communication. We're even available 24-hours a day for any emergency septic system issues!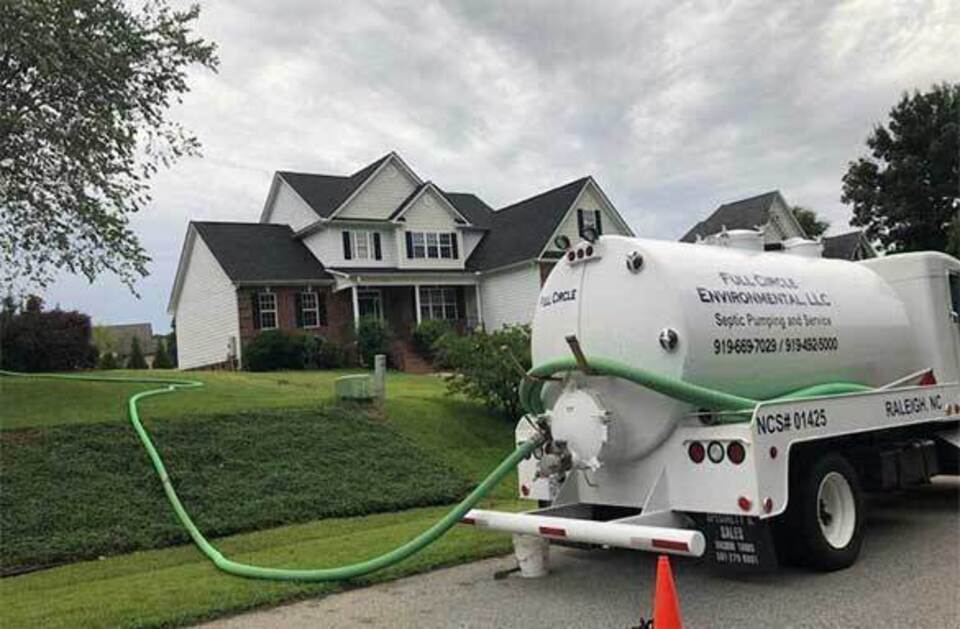 Septic Tank Pumping in Smithfield
At Full Circle Environmental, we cover an extensive territory with regular availability in Smithfield for all septic pumping needs. Whether it's routine maintenance or emergency pumping needs, Full Circle Environmental has you covered! When your septic system is running as it should, you probably do not think about it very much. Yet every time you turn on a faucet or flush a toilet, wastewater from your house is running into the septic tank. Solids sink to the bottom, and the water flows out into the drainfield. Over time, the number of solids can build up, blocking the flow of water. Regular pumping and routine filter services and cleaning is an important practice to prevent wastewater from backing into your Smithfield home! Contact our team to schedule a septic tank pumping service today! 
Septic Tank Inspection in Smithfield
NC Septic Tank Inspections
If your Smithfield home has a septic tank system, you are experiencing some benefits. For one thing, you do not have a monthly sewer bill. Also, the wastewater from your home is being disposed of in an age-old, eco-friendly manner allowing the earth's soils to filter out contaminants. As long as you take care of the system, it should take care of you for many years. A regularly scheduled septic tank inspection for your Smithfield home is the best way to make sure that everything is working as it should. Contact our team today to schedule a septic tank inspection today! 
Septic Tank Repair & Modifying in Smithfield
Full Circle Environmental has all the resources needed to tackle any repair, modification, or upgrade to an existing system.  With property maintenance, septic systems can last many years; however, repairs and upgrades are often necessary to enhance the lifespan and a functioning of each component.  Examples of such are access risers, distribution boxes, filters, and control panels. Septic systems are not designed to forever. Most Smithfield homeowners can expect the need to repair or replace a system or component at some point. If the septic system is designed and installed properly, then the chances for success is much greater. Tree root intrusion, saturated soils and heavy rainfall, excessive water usage, and water table variations are all factors that can severely reduce the lifespan of a septic system. If you're in need of a septic tank repair or modification for your Smithfield home, give our team a call today! 
Contact us today to make an appointment.
Send us a message using the form below. If you haven't heard from us within one (1) business day, please call us at 919-359-9984.